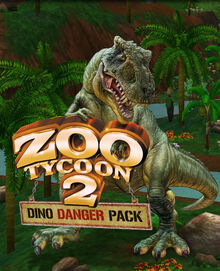 Dino Danger Pack was a premium download minipack for Zoo Tycoon 2, developed by Blue Fang Games and released in July 2006. It could be downloaded for US $4.99 at the Zoo Tycoon 2 website and Oberon Media website. It became unavailable when Extinct Animals was released and overrode its content.
Contents
Animals
Objects
Animal Food
Cycada leaves
Dinosaur Meat
Animal Enrichment
Foliage
Fences
Ad blocker interference detected!
Wikia is a free-to-use site that makes money from advertising. We have a modified experience for viewers using ad blockers

Wikia is not accessible if you've made further modifications. Remove the custom ad blocker rule(s) and the page will load as expected.